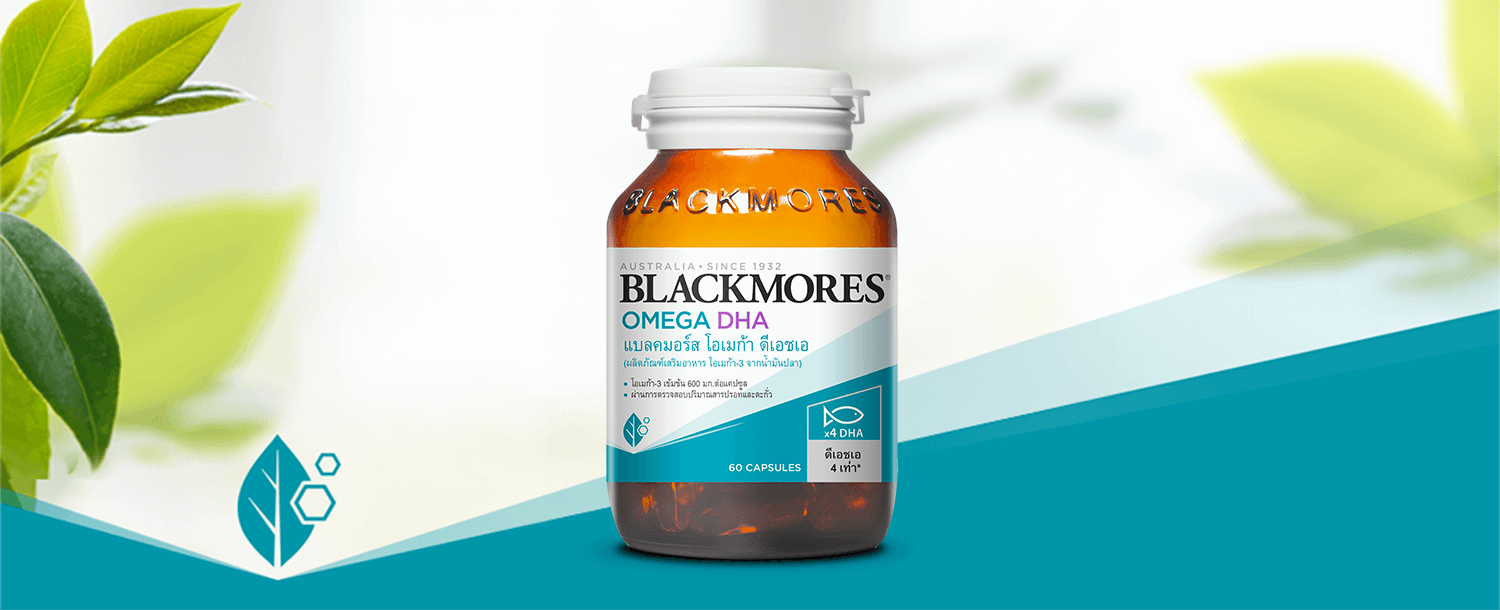 About this product
Concentrated Omega-3 600 mg/capsule

Provides DHA 500 mg and EPA 100 mg/capsule

Vitamin E contributes to the protection of cell from oxidative stress

Mercury and lead tested

Features
Blackmores Omega DHA taken as a dietary supplement provides omega-3 triglycerides (EPA and DHA).

This formula contains concentrated omega-3 with DHA 500 mg/capsule from deodorisation proceed to be odourless fish oil in order to be no fishy after taste. This product is mercury and lead tested. Besides, there is vitamin E contributes to the protection of cells from oxidative stress.
Dosage
Adult - Take 1 capsule daily with meal
Active ingredients
Each capsule contains
containing omega-3 triglycerides 600 mg as: Eicosapentaenoic acid (EPA) 100 mg and Docosahexaenic acid (DHA) 500 mg
| | |
| --- | --- |
| Natural vitamin E | 2.25 IU |
Available size
60 capsules
Cautions
Do not use in people have allergy with marine fish or fish oil. Be careful in people who has clotting disorder or take antiplatelet or aspirin.

- Always read the label warning before use
- No effect on prevention or treatment of diseases.
- Children and pregnant woman should not eat.
- Should routinely eat appropriate proportion of varieties of 5 food groups.
ฆอ. 1067/2564 | โฆษณานี้ได้รับการอนุญาตจากสำนักงานคณะกรรมการอาหารและยา