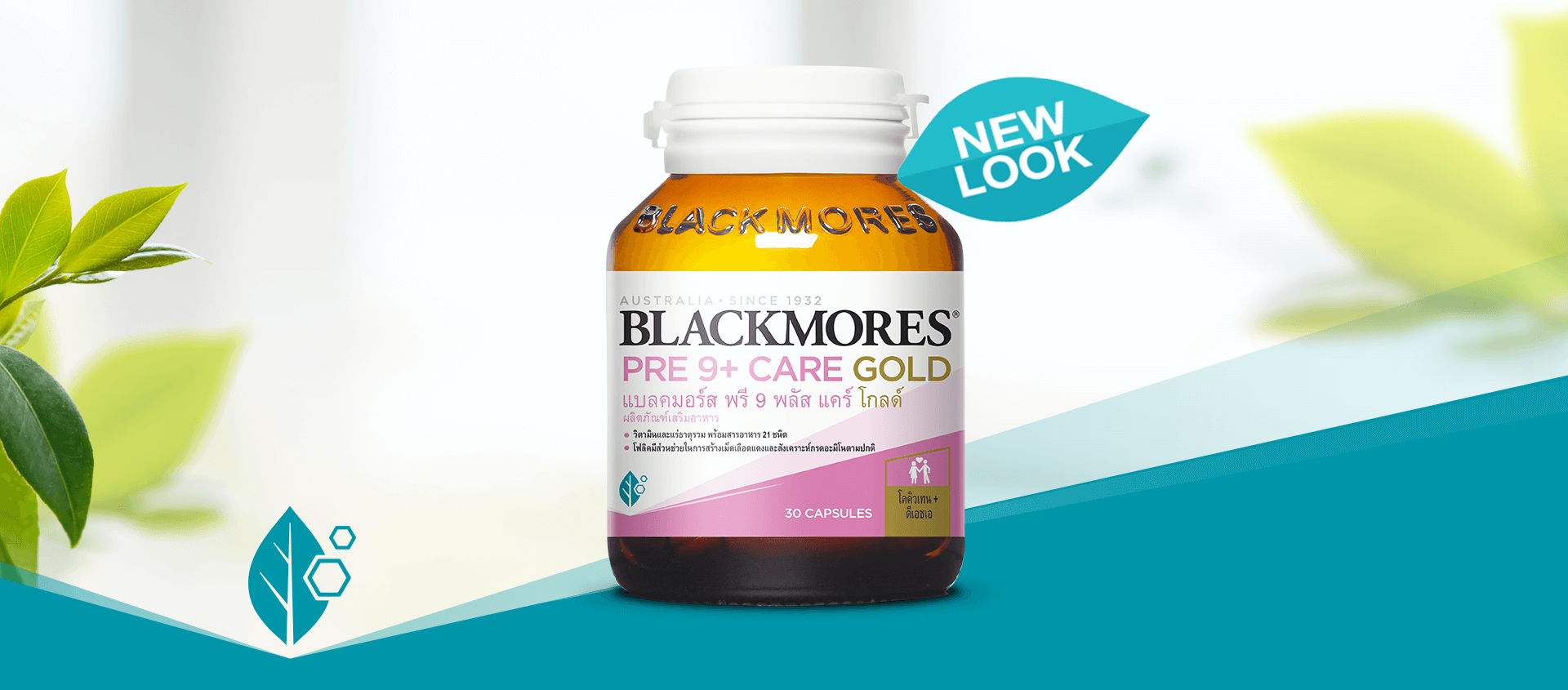 Blackmores Pre 9+ Care Gold

About this product
21 nutrients, multivitamin and mineral (include CoQ10 and DHA)

Features
• Folic acid contributes to normal red blood formation & amino acid synthesis
• Iodine contributes to normal function of the nervous system.
• Iron contributes to the normal function of the immune system and contributes to normal formation of red blood cells and haemoglobin.
Dosage
Dosage: Adult - Take 1 capsule with meal once a day
Active ingredients
Active ingredient per capsule:
Per capsule contains 250 mg of fish oil which provide Omega-3, including polyunsaturated fatty acids; EPA (Eicosapentaenoic acid) 25 mg DHA (Docosahexaenoic acid) 125 mg Saturated fat 190 mg
(from Magnesium citrate 67.9 mg and Magnesium oxide 69.7 mg)
(from Ferrous fumarate 23.55 mg)
(from Zinc sulphate monohydrate 16.6 mg)
(from D-alpha-tocopheryl acetate 80% 12.5 mg)
(from Manganese sulphate monohydrate 5.39 mg)
(from Calcium pantothenate 2.51 mg)
(from Betacarotene 30% 2.5 mg)
(from Pyridoxine hydrochloride 2.43 mg)
(from Cyanocobalamin 0.1% 2mg)
(from Thiamin mononitrate 925 mcg)
(from Chromium chloride hexahydrate 131 mcg)
(from Vitamin D3 2,000,000 IU/G 100 mcg)
(from Potassium iodide 97.86 mcg)
(from Selenomethionine 81.3 mcg)
Available size
30 capsules
Cautions
Do not use if allergy to marine fish or fish oil Warning for people who have slow blood clotting or use anti-coagulation or aspirin

Food Allergen Information:
Contains Fish and soybean products

Always read the label before use. To read a warning statement on a label before consuming. No effect for prevention or cure diseases. Children and pregnant women should not be consumed.
Should eat varieties of five categories food in appropriate proportion.
ฆอ. 1843/2564 | โฆษณานี้ได้รับการอนุญาตจากสำนักงานคณะกรรมการอาหารและยา